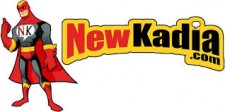 NORRISTOWN, Pa., July 25, 2018 (Newswire.com) - The world's largest online-only comic book store, NewKadia.com, expects to welcome its 15 millionth shopper on Tuesday, July 31, according to its founder and CEO, Jim Drucker, who cited data provided by Google Analytics, a service provided by Google and Alexa.com, an internet measurement company owned by Amazon.com.
In total, the 15 million customers have spent over 129 years browsing 100 million web pages at NewKadia.com, based in suburban Philadelphia.
"Over 5,000 shoppers visit our website every day and at our current rate, the fifteenth millionth shopper should click to us between 8 and 9 p.m. Eastern time on July 31. The back-issue comic book business is booming, and our web traffic verifies it," said Drucker. 
The privately held NewKadia.com, Inc. opened on January 1, 2000. The site, NewKadia.com, is the most trafficked online-only comic book store in the world, with the average customer viewing 6.7 pages per visit and spending over four minutes at the store, according to Google.  
"We're attracting a half-million new shoppers each year to NewKadia.com," said Drucker,
NewKadia.com inventory is 743,872 back-issue comic books and over 10,000 additional are added each week. 
The best-selling comic book at NewKadia.com is "Amazing Spider-Man," which has topped the store's best seller list every year for the past 18 years. X-Men comics, "Fantastic Four," "Batman," "Daredevil," "Incredible Hulk," "the Avengers," "Justice League of America," "Superman," "Iron Man," and "Thor" round out NewKadia.com's Top 10.
Drucker started NewKadia.com with his own collection of 850 comic books in 2000, and today NewKadia.com is the world's largest online comic book retailer, selling over 250,000 comics in 2017.
Before launching NewKadia.com, Drucker earned sports industry plaudits for his tenure as Commissioner of the Continental Basketball Association (1978-1989), the precursor to the NBA's G-League. He also served as Commissioner of the Arena Football League (1994-1996), Drucker was ESPN's on-camera legal correspondent from 1989 to 1994. 
Additional information is available at http://www.NewKadia.com.
Source: NewKadia.com