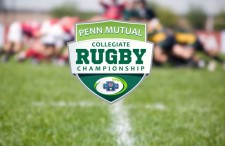 Carried Live on ESPN2, ESPNEWS and ESPN+
PHILADELPHIA, May 30, 2019 (Newswire.com) - ​​This weekend, the 2019 Penn Mutual Collegiate Rugby Championship returns to Talen Energy Stadium in suburban Philadelphia, and the competition will be carried live on ESPN2, ESPNEWS and ESPN+.
The live television coverage schedule will be as follows:
Saturday, June 1: 8 a.m. – 1 p.m. ET on ESPN+
1 p.m. – 3 p.m. on ESPNEWS​
3 p.m. – 7 p.m. on ESPN+​
Sunday, June 2: 10 a.m. – Noon. ET on ESPN2​
Noon – 2 p.m. on ESPN+​
2 p.m. – 5 p.m. ET on ESPNEWS.
The announcers for this weekend's ESPN coverage of the Penn Mutual Collegiate Rugby Championship are analysts Colin Hawley, Brian Hightower, Phaidra Knight and Gareth Rees, who also worked on last year's broadcast.
Hawley is an American rugby union wing. Hawley was brought into the USA Eagles Player Pool and began playing for the U.S. national team while he was still in college. He made his test debut against Georgia in June 2009. He also played with the USA national rugby union team on their 2010 autumn tour. Hawley played for the U.S. National Team in the 2011 Rugby World Cup. Hawley has played with the U.S. national sevens team in several tournaments. U.S. national sevens team Captain Chris Wyles has called Hawley "the next big thing" in USA rugby. Hawley signed a contract to play for the U.S. national rugby sevens team in January 2012 and had been a full-time player under contract for the U.S. since then.
A former USA Sevens captain and USA Rugby World Cup participant, Hightower is currently an analyst and commentator for ESPN and the Pac-12 Networks, calling various rugby games. In addition to his broadcast work, Hightower is a freelance journalist and feature writer, providing event-based coverage, editorial content and in-depth features for sports publications and websites. A 1992 graduate of the College of William & Mary, Hightower currently resides in Carbondale, Colorado.
Knight, who will double as an analyst for the women's games this weekend in Philadelphia, is a retired rugby union player who was a member of the United States national team from 1999–2017. She participated in the Women's Rugby World Cup in 2002, 2006, and 2010, and won All-World Team honors in the first two World Cups. She was named USA Rugby's Player of the Decade in 2010 and was inducted into the World Rugby Hall of Fame in 2017.
A veteran of four Rugby World Cups, Rees is a Victoria native who traveled halfway around the world to make a name for himself in rugby, enjoying two highly successful spells with Wasps in England either side of a three-season stay at Newport in Wales, where he set a new seasonal club record of 398 points in 1995-1996. During his time at Keeble College in Oxford, he won two Blues. Rees' 13-year international career also spanned the amateur and professional eras. From his debut against the USA in 1986, the burly fly-half went on to become Canada's all-time leading scorer with 491 points from 55 test match appearances, a landmark that stood for 14 years. In his last international against Namibia at RWC 1999, Rees kicked a then individual record of 27 points in a match. He also captained Canada in 25 matches. He continues to be a driving force for Canadian rugby in his role as National Program Manager and is in the World Rugby Hall of Fame.
United World Sports, the owners of the largest and most successful annual rugby events in the United States including the Penn Mutual Collegiate Rugby Championship, announced in April 2018 a new expanded agreement with ESPN to carry the Penn Mutual Collegiate Rugby Championship, the national title event for men's and women's college Rugby 7's.
The 2019 Penn Mutual Collegiate Rugby Championship will mark the ninth consecutive year that the event has been held in Philadelphia and at Talen Energy Stadium. (The first year of the event was held in Columbus, Ohio.)
Over 30,000 fans are expected to attend the three-day rugby event, which is one of the largest gatherings of collegiate and high school rugby teams in the world. Penn Mutual is in the fifth year of a title sponsorship for the event.
The annual event features the nation's top 24 men's collegiate rugby 7s teams, the top 16 women's teams, a regional competition with a six-team field vying for a spot in next year's main bracket; the National Small College Rugby Organization (NSCRO) national championship; and a national high school tournament with both boys' and girls' teams.
The 24-team men's college rugby 7s field, competing for the Pete Dawkins Trophy, is led by defending champion Lindenwood University and last year's runner-up, UCLA, along with Arizona; Army; Boston College; California; Clemson; Colorado; Dartmouth; Fordham; Indiana; Iona; Kutztown; Life; Navy; Notre Dame; Penn State; Saint Joseph's; St. Bonaventure; St. Mary's; South Carolina; Temple; Virginia Tech and Wisconsin.
The 2019 Penn Mutual Collegiate Rugby Championship men's winner will once again receive the Pete Dawkins Trophy, named after the All-American football standout at West Point won the Heisman Trophy in 1958. Dawkins was a Rhodes Scholar and attended Oxford, where he used his outstanding football skills to make him a star on the Oxford Varsity rugby team, revolutionizing the game in the process. The men's most valuable player will receive the Mark Dombroski Most Valuable Player Trophy, named in honor of the late Saint Joseph's rugby player who passed away in March 2018.
The 16-team women's college rugby 7s field, competing for the A. Jon Prusmack Cup, is led by defending champion Lindenwood University and last year's runner-up, Penn State, alongside Army, Bloomsburg, Delaware, Drexel, Kutztown, Life, Navy, Northeastern, Notre Dame, Queens University, Saint Joseph's, Temple, Virginia Tech as well as the National Small College Rugby Organization Selects Squad.
About United World Sports:
United World Sports (UWS) is the largest commercial rugby entity in the United States, and the owner and operator of a growing portfolio of dynamic sports, media and apparel brands including the USA Sevens Rugby international tournament, the largest professional rugby event in North America; the Las Vegas Invitational, the largest amateur rugby event in the western hemisphere; the International Silicon Valley 7s; and the Penn Mutual Collegiate Rugby Championship, the premier college 7s rugby championship. Through its apparel division, UWS owns the exclusive North and South American license for Rhino Rugby, one of the world's leading rugby apparel and equipment brands. UWS also owns and operates RugbyToday.com, the largest and most widely read media destination dedicated to American rugby.
About the Penn Mutual Life Insurance Company:
Since 1847, Penn Mutual has been committed to helping people live life with confidence. At the heart of this purpose is the belief that life insurance is central to a sound financial plan. Through our network of trusted advisers, we are dedicated to helping individuals, families and businesses achieve their dreams. Penn Mutual supports its advisers with retirement and investment services through Hornor, Townsend & Kent, Inc. Registered Investment Advisor and wholly owned subsidiary. Member FINRA/SIPC. We are proud to work together in a values-driven and relationship-based culture. Visit Penn Mutual at www.pennmutual.com.
About ESPN+:
ESPN+ is the multi-sport, direct-to-consumer video service from The Walt Disney Company's Direct-to-Consumer and International (DTCI) segment and ESPN. It reached 2 million subscribers in less than a year and offers fans thousands of live events, on-demand content and original programming not available on ESPN's linear TV or digital networks, along with premium editorial content.
Programming on ESPN+ includes hundreds of MLB and NHL games, exclusive UFC and Top Rank boxing events, top domestic and international soccer (Serie A, MLS, FA Cup, UEFA Nations League, EFL Championship, EFL Carabao Cup, Eredivisie, International Champions Cup, USL, A-League, India Super League and more), thousands of college sports events (including football, basketball and other sports), Grand Slam tennis, international and domestic rugby and cricket, new and exclusive series, acclaimed studio shows and the full library of ESPN's award-winning 30 for 30 films. Fans subscribe to ESPN+ for just $4.99 a month (or $49.99 per year) and can cancel at any time.
ESPN+ is available as an integrated part of the ESPN App (on mobile and connected devices) and ESPN.com. They are the industry-leading all-in-one digital sports platform, delivering a rich, personalized experience to tens of millions of fans every month.
Media Contacts:
For United World Sports: Joe Favorito, (201) 746-0005, fatherknickerbocker1@yahoo.com
For Penn Mutual CRC: Jim DeLorenzo, (215) 266-5943, jim@jhdenterprises.com
Source: Penn Mutual Collegiate Rugby Championship
Share: