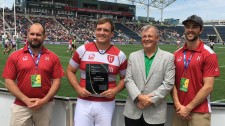 Company honors rugby athlete Nick Carey from Harvard University
PHILADELPHIA, June 3, 2018 (Newswire.com) - During the 2018 Penn Mutual Collegiate Rugby Championship (CRC), which took place at Talen Energy Stadium in Chester, PA on June 1-3, The Penn Mutual Life Insurance Company (Penn Mutual) presented Nick Carey of Harvard University with the fourth annual Life of Significance Award.
Carey, who will graduate in 2019, was nominated for the award based on his leadership on and off the rugby pitch, as well as for setting an example of service to others through his abundant volunteer roles.
Carey has traveled throughout the country on community service trips each summer since middle school, working in underprivileged communities. He has assisted in the development of a peer counseling program for orphans in Swaziland, and helped organize a hurricane relief fundraiser and food drive as well as an MS Walk for the Harpenden Rugby Football Club last year. He spent his spring break on a relief trip to Puerto Rico, working with Mar Azul to rebuild the community of Arecibo. He has also worked for Meals-on-Wheels and volunteered with the Special Ed gym class throughout his high school years. Today, Carey runs a ministry for college students during his summer breaks, and mentors the high school youth group at his church.
"Nick has devoted himself to the life of service while maintaining a strong leadership role in whatever he does," says Harvard Men's Rugby Head Coach Michael Diamantopoulos, who nominated Carey for the award. "His dedication to being a team member while also helping others is what the sport of rugby is all about."
Eileen McDonnell, chairman and CEO of Penn Mutual, touched on the three former winners, and explained that Nick now joins an elite group that Penn Mutual is proud to honor. "Nick's rugby commitment, his compassion, and selflessness in the communities he serves, exemplify what it means to be an inspirational leader, teammate and friend. It is collegiate athletes like Nick that embody what the Life of Significance award stands for, and we are certainly excited to see what is in store for him in his future."
The Life of Significance Award is given annually to a collegiate rugby player participating in the CRC. The recipient of this award exemplifies Penn Mutual's values of integrity, commitment and respect, and has made substantial contributions to society and their community.
Source: Penn Mutual Collegiate Rugby Championship
Share: