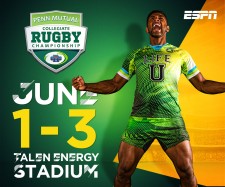 Competition Underway Friday, June 1, through Sunday, June 3
PHILADELPHIA, May 30, 2018 (Newswire.com) - Philadelphia is in the international sports spotlight this coming weekend as the Olympic sport of Rugby 7s returns to Talen Energy Stadium for the 2018 Penn Mutual Collegiate Rugby Championship Friday, June 1, through Sunday, June 3.
The three-day rugby festival is one of the largest gatherings of collegiate and high school rugby teams in the world, with over 30,000 fans anticipated to be in attendance.
This is the eighth consecutive year that the event has been held in Philadelphia and at Talen Energy Stadium. (The first year of the event was held in Columbus, Ohio.)
Penn Mutual is in the fourth year of a title sponsorship for the event.
The 2018 Penn Mutual Collegiate Rugby Championship features the nation's top 24 men's collegiate rugby 7s teams, the top 16 women's teams, a regional competition with a six-team field vying for a spot in next year's main bracket; the National Small College Rugby Organization (NSCRO) national championship; and a national high school tournament with both boys' and girls' teams.
The 24-team men's field features America's best teams, including: Air Force, Arizona, Arkansas State, Army, Boston College, Dartmouth, Delaware, Eastern Washington, Indiana, Iona, Kutztown, Life, Lindenwood, Maryland, Mount Saint Mary's, Navy, Notre Dame, Penn State, Saint Joseph's, South Carolina, Temple, UCLA, Virginia Tech and Wisconsin.
The Penn Mutual Collegiate Rugby Championship trophy is named after the All-American football standout at West Point who won the Heisman Trophy in 1958. Army General Pete Dawkins was a Rhodes Scholar and attended Oxford, where he used his outstanding football skills to make him a star on the Oxford varsity rugby team, revolutionizing the game in the process.
This year, retired U.S. Army Lieutenant General H.R. McMaster (and former National Security Advisor) will present the Pete Dawkins Trophy to the winner of the 2018 Penn Mutual Collegiate Rugby Championship. The men's most valuable player will receive the Mark Dombroski Most Valuable Player Trophy, named in honor of the late Saint Joseph's rugby player who passed away in March.
For the first time this weekend, competition in the 2018 Penn Mutual Collegiate Rugby Championship will be carried live on ESPN2, ESPNews and the new ESPN+ app.
The lead announcers for this weekend's ESPN coverage of the Penn Mutual Collegiate Rugby Championship are veteran Olympic Rugby 7s analyst Brian Hightower and Gareth Rees, both of whom led the broadcasts of the HSBC Sevens World Series from Las Vegas earlier this year. Hightower is a former USA Sevens captain and USA Rugby World Cup participant, while Rees is the only Canadian in the World Rugby Hall of Fame, who played in the first four Rugby World Cups.
Joining Hightower and Rees on the broadcasts are sideline reporters Colin Hawley and Phaidra Knight. Hawley is currently a member of USA Rugby Eagles and has competed in Rugby 7s in numerous international competitions. Knight, who will double as commentator for the Penn Mutual Collegiate Rugby Championship women's contests on ESPN, was a member of the U.S. national team from 1999 to 2017, participated in the Women's Rugby World Cup in 2002, 2006 and 2010, and won All-World Team honors in the first two World Cups. She was named USA Rugby's Player of the Decade in 2010 and was inducted into the World Rugby Hall of Fame last November.
The live television coverage schedule will be as follows:
• Saturday, June 2: 9 a.m. – 12 p.m. ET on ESPN2
• Sunday, June 3: 10 a.m. – 12 p.m. ET on ESPN2
• Sunday, June 3: 2 p.m. – 5 p.m. ET on ESPNews.
All the other matches featured in-stadium will be covered live on ESPN+, the first-ever multi-sport, direct-to-consumer subscription streaming service from The Walt Disney Company Direct-to-Consumer and International segment and ESPN.
Leading the women's national championship field this summer is two-time defending women's champion Life University, which captured their second crown last June with a 17-12 victory over Lindenwood University. Lindenwood also returns for the 2018 competition, along with Bloomsburg, Boston University, Clemson, Delaware, Drexel, East Stroudsburg, Kutztown, Navy, Notre Dame, Penn State, Temple Virginia, Virginia Tech and the NSCRO Selects squad, an all-star team chosen from the best of NSCRO's 7 teams, round out the 16-team field.
In addition to the main men's and women's college rugby 7s competition, the weekend also includes a six-team men's rugby 7s field in the Freedom Cup – Drexel, Fordham, Harvard, Rowan, Villanova and West Chester – competing for a spot in next year's 24-team field in the men's Penn Mutual Collegiate Rugby Championship.
Also this weekend at Talen Energy Stadium is the NSCRO Powered by Penn Mutual Rugby 7s National Championship. That tournament field includes California Maritime Academy; Christendom College; The Claremont Colleges; Endicott College; Iowa Central Community College; defending champion New Mexico Highlands; Salve Regina University; and Susquehanna University.
While the featured attractions this weekend are the top 24 men's and top 16 women's college rugby 7s teams in the United States, the cream of the crop of the nation's top high school and club rugby 7s squads have been invited to Philadelphia this weekend. The 11 states represented in this year's high school and club tournament field include California, Connecticut, Delaware, Maryland, Mississippi, New Jersey, Pennsylvania, Tennessee, Texas, Utah and Virginia.
The 18-team field competing in the Boys Open Division includes: Bishop Shanahan (PA); Blackthorn (PA); Burrell (PA); Downingtown (PA); Hempfield (PA); Kiski Valley (PA); Loudon (PA); Malvern Prep (PA); Media (PA); North Bay (MD); Rock Rugby (TX); St. Augustine (CT); Salesianum (DE); Simon Gratz (PA); Tennessee Tri-Star (TN); Unionville Indians (PA); Vienna Youth (VA); and West Carrol Marauders (MS).
The 8-team field competing in the Boys Elite Division includes: Atlantis Teal (PA); Atlantis Black (PA); Greenwich Central (CT); Maryland Exiles (MD); Rhino Rugby Academy Black (CA); Rhino Rugby Academy White (CA); Tennessee Tri Star (TN) and Utah Cannibals (UT).
The 12-team field competing in the Girls Open Division includes: D-Town 1 (PA); D-Town 2 (PA); Fallbrook (CA); Kiski Valley (PA); NJ Blaze (NJ); North Bay (MD); PA United (PA); Penn Legacy Knightmares (PA); Tennessee Tri Star A (TN); Tennessee Tri Star B (TN); Utah Cannibals (UT); and West Shore United (PA).
Dunkin' Donuts of Greater Philadelphia is the presenting sponsor of "Rugger Fest Powered by Dunkin' Donuts" on the grounds outside suburban Philly's Talen Energy Stadium. Dunkin' Donuts' presenting sponsorship features the first-ever "Munchkin Rugby" coaching and demonstration area, featuring instruction for children in the sport of rugby by USA Rugby's Rookie Rugby program. In addition, Dunkin' Donuts will bring its Community Cruiser and a team of brand ambassadors offering fans in attendance at the 2018 Penn Mutual Collegiate Rugby Championship free samples of Dunkin' Donuts Iced Coffee. There will also be a Dunkin' Prize Wheel and giveaways, as well as on-site activation highlighting the Dunkin' Mobile App and DD Perks® rewards program. There will also be local food and beverage specialties, shops and activities for fans and families, as well as two full days of a music festival featuring bands from Philadelphia's Let There Be Rock School. There will also be sports activities, rugby clinics and demonstrations including the Civilian Military Combine.
The interest in Rugby Sevens (also known as Sevens Rugby) continues to grow after the return to the Olympic Games in 2016, following a 92-year hiatus. The Penn Mutual Collegiate Rugby Championship is America's national sevens championship and serves as the centerpiece of a nationwide effort to build American rugby talent for competition on the International stage. Over the past eight years, this event has produced over 30 players who have gone on to play for the U.S. National teams.
Reserved and field-level tickets to the "World's Largest Collegiate Rugby Festival" are available online at sevensrugby.com. Single-day reserved tickets are $90 and field-level tickets are $63, and full-weekend reserved tickets are $132 and field-level tickets are $79.
About United World Sports:
United World Sports (UWS) is the largest commercial rugby entity in the United States, and the owner and operator of a growing portfolio of dynamic sports, media and apparel brands including the USA Sevens Rugby international tournament, the largest professional rugby event in North America, and the Penn Mutual Collegiate Rugby Championship, the premier college 7s rugby championship. Through its apparel division, UWS owns the exclusive North and South American license for Rhino Rugby, one of the world's leading rugby apparel and equipment brands. UWS also owns and operates RugbyToday.com, the largest and most widely read media destination dedicated to American rugby. Additional information is available at http://www.unitedworldsports.com.
About Penn Mutual:
Since 1847, Penn Mutual has been committed to helping people live life with confidence. At the heart of this purpose is the belief that life insurance is central to a sound financial plan. Through our network of trusted advisers, we are dedicated to helping individuals, families and businesses achieve their dreams. Penn Mutual supports its advisers with retirement and investment services through Hornor, Townsend & Kent Inc. Registered Investment Advisor and wholly owned subsidiary. Member FINRA/SIPC. We are proud to work together in a values-driven and relationship-based culture. Visit Penn Mutual at www.pennmutual.com.
Media Contacts:
Joe Favorito, 201-746-0005, fatherknickerbocker1@yahoo.com
Jim DeLorenzo, 215-266-5943, jim@jhdenterprises.com
Source: Penn Mutual Collegiate Rugby Championship
Share: