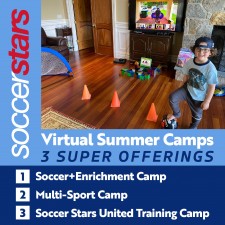 Soccer Stars Virtual Summer Camps Begins Monday, June 15
NEW YORK, June 8, 2020 (Newswire.com) - It's the beginning of the summer season and Super Soccer Stars is launching its national virtual summer camp offerings, including Soccer + Enrichment, Multi-Sport, and Advanced Development Camps, that begin online on Monday, June 15, 2020. The full schedule of camps is available at https://bit.ly/3gLXvhx.
For the first time, Super Soccer Stars has partnered with a number of New York-based enrichment providers to combine sports and education, as well as to support local businesses while providing children and families with holistic and safe virtual summer camp experiences.
Super Soccer Stars is partnering with Amazing Athletes, Dribbl, Broadway Bees, Private Picassos, Icamp, and Spark, with more enrichment partners to be announced.
The enhanced Soccer + Enrichment Virtual Summer Camp curriculum features soccer, sports and STEAM educational programming, in partnership with a variety of accomplished educational professionals from each enrichment partner.
"Summer camps are a really big part of who we are, and we are proud to have created a virtual summer camp curriculum that combines our 20-plus years of soccer curriculum with amazing local New York brands and instructors that are in need of keeping their coaches and instructors employed and impacting as many kids as possible," said Adam Geisler, the company's CEO. "Now with Soccer Stars Virtual Summer Camps, we can impact many more children across the country and the world. With our virtual summer camp programs, we are building a youth sports and education program for a post-virus world, coaching and teaching children while also keeping teachers, educators and coaches employed teaching and motivating kids."
The founder of Broadway Bees, Valentina Berger, noted that "we are excited to join forces with Super Soccer Stars this summer and deliver a thrilling, immersive experience of holistic learning based on the magical world of Broadway musicals."
According to Teddy Frischling, Founder & CEO of Dribbl, "We are excited to bring Dribbl's high-energy basketball sessions to a national audience through Super Soccer Stars' virtual summer camp program. It is a great opportunity to keep our coaches employed and the kids inspired."
Another enrichment partner, Amazing Athletes President John Erlandson, said, "Amazing Athletes is a best-in-class, multi-sport program that builds the holistic child through sports education, so the opportunity to partner up with the nation's largest and highest quality soccer program was one that we couldn't pass up. This combination will take a child's experience to the next level."
Weekly camps run from June 15 to August 17. Families can join the programs from anywhere in the country and connect with expert coaches, along with old and new friends. The camp programs are run through Zoom, with screen sharing and socialization options for all participants. Whether you are looking for multiple activities or want to explore a love of sports, Super Soccer Stars will keep things fresh and exciting every week.
The Soccer Stars Virtual Summer Camps offerings include:
● Soccer + Enrichment Camp for children ages 3 to 10 years, offering three fun-filled hours of virtual camp, including soccer every week plus two partner programs in art, STEM, theatre, gymnastics, and karate, right in your living room.
● Multi-Sport Camp for children ages 4 to 10 years, offering two dynamic hours of sports right in your living. Super Soccer Stars is partnering with Amazing Athletes to bring an active virtual experience into your home, featuring 10 sports and engaging educational content to teach kids about leading a healthy lifestyle.
● Soccer Stars United Training Camp for children under 5 to under 18 years, offering a high-intensity, 90-minute virtual soccer camp for more advanced players wanting to play competitively. The daily curriculum will focus on ball mastery, SAQ training, HIT, and psychomotor skills.
Additionally, Super Soccer Stars is making available up to 5,000 open spots in its weekly online classes and 50 weeks of virtual summer camp free to frontline medical workers, families negatively impacted by school closures and families who can benefit from financial assistance, through their Soccer Stars for All program.
"We recognize that families around the world are facing financial and workplace hardships due to the coronavirus pandemic and we want to help. Our Soccer Stars for All initiative makes online classes and camps more accessible to families whose caregivers are front-line workers or are otherwise struggling to keep their children happy, healthy, active and engaged," Geisler said.
About Super Soccer Stars:
New York-based Super Soccer Stars was founded in 2000 and is the largest corporately run youth soccer program in the country. Super Soccer Stars' goal is to use the soccer ball as a vehicle to help children improve their soccer skills while at the same time building self-confidence, enhancing gross motor skills, honing socialization skills, and developing physical literacy. Dynamic local and international coaches work with small groups of boys and girls to develop these skills and teamwork in a fun, non-competitive, educational environment. Super Soccer Stars operates in over 25 major markets reaching over 110,000 children each year. Additional information is available at http://www.soccerstars.com.
Media Contacts:
Soccer Stars: Matt Stefan, (215) 500-3029, matt.stefan@soccerstars.com
Jim DeLorenzo Public Relations: Jim DeLorenzo, (215) 266-5943, jim@jhdenterprises.com
Source: Super Soccer Stars
Share: