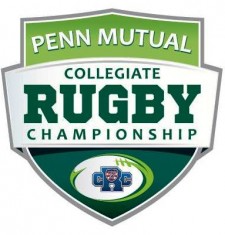 PHILADELPHIA, April 11, 2018 (Newswire.com) - Media credential requests for the upcoming 2018 Penn Mutual Collegiate Rugby Championship, the world's largest collegiate rugby festival, are now being accepted online at http://www.sevensrugby.com/college/?page_id=5304&preview=true.
Qualified members of the news media should submit their application in advance of this year's competition. Applications will be reviewed before approval is granted, and notification of that approval will be sent via e-mail to each qualified media applicant. The online application deadline is May 21, 2018.
Credentials will be available for pick up prior to the 2018 Penn Mutual Collegiate Rugby Championship beginning Thursday, May 31 at the tournament's hotel headquarters, the Sheraton Philadelphia Downtown Hotel (201 North 17th Street, Philadelphia, PA 19103). Media credentials will then be available at the Media Will Call table at the entrance to Talen Energy Stadium on Saturday, June 2 and Sunday, June 3.
The 2018 Penn Mutual Collegiate Rugby Championship will mark the eighth consecutive year that the event has been held in Philadelphia and at Talen Energy Stadium, bringing national and International attention to the region through the live broadcasts on the networks of ESPN.
The three-day rugby event is one of the largest gatherings of collegiate and high school rugby teams in the world. Penn Mutual is in the fourth year of a title sponsorship for the event, and over 30,000 fans are expected for this year's championship tournaments.
The annual event features the nation's top 24 men's collegiate rugby 7s teams and the top 16 women's college teams and includes a regional competition with a six-team field vying for a spot in next year's main bracket; the National Small College Rugby Organization (NSCRO) national championship; as well as a national high school tournament with both boys' and girls' teams.
The interest in Rugby Sevens (also known as Sevens Rugby) continues to grow after the return to the Olympic Games in 2016, following a 92-year hiatus. The Penn Mutual Collegiate Rugby Championship is America's national sevens championship and serves as the centerpiece of a nationwide effort to build American rugby talent for competition on the International stage. Over the past eight years, the event has produced over 30 players who have gone on to play for the U.S. National teams.
About United World Sports:
United World Sports (UWS) is the largest commercial rugby entity in the United States, and the owner and operator of a growing portfolio of dynamic sports, media and apparel brands including, the USA Sevens Rugby international tournament, the largest professional rugby event in North America and the Penn Mutual Collegiate Rugby Championship, the premier college 7s rugby championship. Through its apparel division, UWS owns the exclusive North and South American license for Rhino Rugby, one of the world's leading rugby apparel and equipment brands. UWS also owns and operates RugbyToday.com, the largest and most widely read media destination dedicated to American rugby. Additional information is available at http://www.unitedworldsports.com.
About Penn Mutual:
Since 1847, Penn Mutual has been committed to helping people live life with confidence. At the heart of this purpose is the belief that life insurance is central to a sound financial plan. Through our network of trusted advisers, we are dedicated to helping individuals, families and businesses achieve their dreams. Penn Mutual supports its advisers with retirement and investment services through Hornor, Townsend & Kent, Inc. Registered Investment Advisor and wholly owned subsidiary. Member FINRA/SIPC. We are proud to work together in a values-driven and relationship-based culture. Visit Penn Mutual at www.pennmutual.com.
Media Contacts:
Joe Favorito, 201-746-0005, fatherknickerbocker1@yahoo.com
Jim DeLorenzo, 215-266-5943, jim@jhdenterprises.com
Source: Penn Mutual Collegiate Rugby Championship
Share: