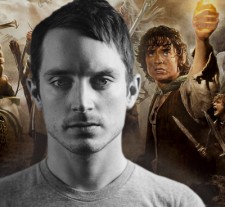 Iconic Trilogy's 'Frodo Baggins' Adds To Star Power, Joins LOTR Stars Sean Astin, Billy Boyd At Pennsylvania Convention Center.
PHILADELPHIA, May 8, 2018 (Newswire.com) - Elijah Wood, who starred as "Frodo Baggins" in the iconic Lord of the Rings trilogy and reprised the role in The Hobbit: An Unexpected Journey among his dozens of film and TV roles, will make his first Wizard World appearance next week when he attends Wizard World Comic Con Philadelphia on Saturday and Sunday, May 19 and 20, at the Pennsylvania Convention Center in Center City. Wood will greet fans, sign autographs, pose for photo ops and conduct an interactive fan Q&A with his fellow LOTR co-stars Sean Astin and Billy Boyd during his appearance.
Widely regarded as one of the most gifted actors of his generation, Wood continues to challenge his craft with boundary-pushing roles that span an extensive array of different styles and genres across film and television. Some of his post-LOTR work include the co-starring role in last year's "Dirk Gently's Holistic Detective Agency," "The Trust" opposite Nicholas Cage, and "The Last Witch Hunter" with Vin Diesel and Rose Leslie.
In addition, through his production company SpectreVision, which was founded in 2010 alongside Daniel Noah and Josh C. Waller, Wood premiered Bitch at the 2017 Sundance Film Festival. Other SpectreVision films include the comedy/horror film Cooties, which Wood starred in and produced, as well as "The Greasy Strangler," "A Girl Walks Home Alone At Night," "The Boy," "Toad Road" and "LFO," among others.
Wood joins a standout celebrity roster in Philadelphia that already includes Stephen Amell ("Arrow," "The Flash"), Sebastian Stan (Captain America franchise), the Justice League trio of Jason Momoa, Ezra Miller and Ray Fisher, Natalie Dormer ("Game of Thrones"), Pom Klementieff (Guardians of the Galaxy), Henry Winkler ("Happy Days," Here Comes the Boom), Jewel Staite ("Firefly," "Stargate: Atlantis"), and more at the comic con and pop culture extravaganza.
Wizard World Comic Con Philadelphia will also feature the most creative comics artists and writers on the planet as well as non-stop live entertainment, gaming, exclusive Q&A sessions with top celebrities, movie screenings hosted by stars and directors and more. Details to follow soon.
Wizard World Comic Con events bring together thousands of fans of all ages to celebrate the best in pop culture: movies, television, gaming, live entertainment, comics, sci-fi, graphic novels, toys, original art, collectibles, contests and more. The fifth event scheduled on the 2018 Wizard World calendar, Philadelphia show hours are Thursday, May 17, 4-9 p.m.; Friday, May 18, noon-7 p.m.; Saturday, May 19, 10 a.m.-7 p.m.; Sunday, May 20, 10 a.m.-4 p.m. Kids 10 and under are admitted free with paid adult.
Wizard World Comic Con Philadelphia is also the place for cosplay, with fans young and old showing off their best costumes throughout the event. Fans dressed as every imaginable character – and some never before dreamed – will roam the convention floor and participate in the famed Wizard World Costume Contest on Saturday evening.
For more on the 2018 Wizard World Philadelphia, visit http://wizd.me/PhiladelphiaPR.
About Wizard World
Wizard World, Inc. (www.wizardworld.com) produces comic, gaming and pop culture conventions across North America that celebrate the best in pop culture: movies, television, gaming, live entertainment, tech, comics, sci-fi, graphic novels, toys, original art, collectibles, contests and more. A first-class lineup of topical programming and entertainment takes place at each event, with celebrity Q&A's, comics-themed sessions, costume contests, movie screenings, evening parties and more. Wizard World has also teamed with Sony Pictures Entertainment to find the next generation of movies as well as to engage in a number of strategic initiatives. Additional initiatives may include an augmented touring schedule of Wizard World shows, fixed-site installations, curated e-commerce, and the production and distribution of content both in the U.S. and internationally. Fans can interact with Wizard World at www.wizardworld.com and on Facebook, Twitter, Pinterest, Instagram and other social media services.
The 2018 Wizard World convention schedule is available at http://www.wizardworld.com/comiccon.
Media Contacts:
Jerry Milani, Wizard World, 646-883-5022 (o/txt), pr@wizardworld.com
Jim DeLorenzo, Jim DeLorenzo Public Relations, 215-266-5943, jim@jhdenterprises.com
Source: Wizard World
Share: