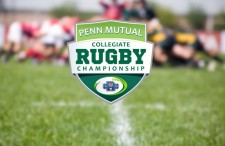 Nation's Top College Squads Competed at Talen Energy Stadium June 1-2-3
PHILADELPHIA, June 5, 2018 (Newswire.com) - In a rare double, the Lindenwood University men's and women's rugby 7s teams won titles this past weekend at the 2018 Penn Mutual Collegiate Rugby Championship in suburban Philadelphia's Talen Energy Stadium.
That's a first for the nine-year-old annual event, which began in Columbus, Ohio in 2010 and has made Philadelphia it's home for the last eight years.
Total attendance at Talen Energy Stadium this weekend was 27,002, with a record-setting crowd of 15,109 during Saturday's pool play competition.
The Lindenwood men's squad took home their first Pete Dawkins Trophy with their 24-7 win over UCLA in the men's championship final late Sunday afternoon. The Lions, out of St. Charles, Missouri, finished on top of the 24-team field of the nation's top men's rugby 7s teams. Lindenwood defeated Navy, 22-0 in the quarterfinal, and Life in the semifinal, 17-7.
UCLA's Ben Broselle, a freshman wing from Ferndale (Washington) High School, received the inaugural Mark Dombroski Most Valuable Player Award for his play throughout the weekend. The award was named in honor of the late Saint Joseph's rugby player who passed away in March.
The Penn Mutual Collegiate Rugby Championship trophy is named after the All-American football standout at West Point who won the Heisman Trophy in 1958. Army General Pete Dawkins was a Rhodes Scholar and attended Oxford, where he used his outstanding football skills to make him a star on the Oxford Varsity rugby team, revolutionizing the game in the process.
This year retired U.S. Army Lieutenant General (and former National Security Advisor) H.R. McMaster presented the Pete Dawkins Trophy to Lindenwood, and coach Josh Macy.
Lindenwood's women's team won their championship match over Penn State, 21-12, to capture their first women's title, in a 16-team field of the nation's top women's rugby 7s programs.
Previous winners of the Pete Dawkins Trophy include: Utah (2010); Dartmouth (2011, 2012); and California (2014, 2015, 2016, 2017). Previous women's champions include: Life (2016, 2017) and Penn State (2013, 2014, 2015).
About United World Sports:
United World Sports (UWS) is the largest commercial rugby entity in the United States, and the owner and operator of a growing portfolio of dynamic sports, media and apparel brands including, the USA Sevens Rugby international tournament, the largest professional rugby event in North America and the Penn Mutual Collegiate Rugby Championship, the premier college 7s rugby championship. Through its apparel division, UWS owns the exclusive North and South American license for Rhino Rugby, one of the world's leading rugby apparel and equipment brands. UWS also owns and operates RugbyToday.com, the largest and most widely read media destination dedicated to American rugby. Additional information is available at http://www.unitedworldsports.com.
About Penn Mutual:
Since 1847, Penn Mutual has been committed to helping people live life with confidence. At the heart of this purpose is the belief that life insurance is central to a sound financial plan. Through its network of trusted advisers, Penn Mutual is dedicated to helping individuals, families, and businesses achieve their dreams. Penn Mutual supports its advisors with retirement and investment services through Hornor, Townsend & Kent, Inc. Registered Investment Advisor and wholly owned subsidiary. Member FINRA/SIPC. Penn Mutual is proud to work together in a values-driven and relationship-based culture. Visit Penn Mutual at www.pennmutual.com.
Source: Penn Mutual Collegiate Rugby Championship
Share: