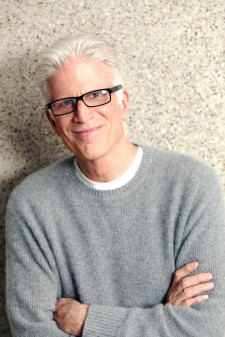 'Cheers,' 'The Good Place,' 'Becker' Star to Appear Sunday, June 16 at Pennsylvania Convention Center
PHILADELPHIA, May 16, 2019 (Newswire.com) - ​Wizard World Philadelphia will be "where everybody knows your name" on Sunday, June 16, when the great Ted Danson, who starred as "Sam Malone" in the iconic series "Cheers" and is now in the fourth season in the lead role of "Michael" in the acclaimed NBC series "The Good Place" makes his first pop culture convention appearance at the Pennsylvania Convention Center in Center City Philadelphia. Danson, a Golden Globe and Emmy Award-winning actor known for an array of exceptional performances, will greet fans, sign autographs, pose for photo ops and conduct a Q&A panel during a busy day.
Danson was recently seen in the ninth season of "Curb Your Enthusiasm" and also had a prominent role in the second season of FX's critically acclaimed series "Fargo." Other credits include CBS' long-running "CSI" and "CSI: Cyber," FX's "Damages" (playing tycoon "Arthur Frobisher") and CBS' "Becker" – the latter two roles for which he was Golden Globe nominated.
In film, Danson can be seen in Hearts Beat Loud, a musical drama that premiered at the Sundance Film Festival in 2018. He has also appeared in several other high-profile projects, including the 1987 blockbuster hit Three Men and a Baby and its sequel, Three Men and a Little Lady. He also had a co-starring role in Steven Spielberg's World War II masterpiece Saving Private Ryan.
Danson joins a standout celebrity roster at the 19th annual Wizard World Philadelphia, headlined by "Once Upon a Time" stars Lana Parrilla, Rebecca Mader and Jared Gilmore, "Gotham" standouts Ben McKenzie and Morena Baccarin, "The Vampire Diaries" headliner Ian Somerhalder and the "Supergirl" tandem of Mehcad Brooks and Jeremy Jordan.
Other stars scheduled to appear include the "Charmed" trio of Holly Marie Combs, Brian Krause and Drew Fuller, "The Magicians" duo of Hale Appelman and Stella Maeve, the "Firefly" trio of Adam Baldwin, Jewel Staite and Sean Maher, Kevin Conroy ("Batman: The Animated Series," "Justice League"), "RWBY" stars Lindsay Jones, Kara Eberle, Arryn Zech and Barbara Dunkleman, Chris Owen (American Pie franchise) and Thomas Ian Nicholas (Rookie of the Year, American Pie).
Wizard World Philadelphia will also feature some of the world's most talented artists and authors, plus non-stop live entertainment hosted by Kato Kaelin, gaming, exclusive Q&A sessions with top celebrities, movie screenings hosted by stars and directors and more. Details to follow soon, along with programming and entertainment stage schedules.
Wizard World events bring together thousands of fans of all ages to celebrate the best in pop culture: movies, television, gaming, live entertainment, comics, sci-fi, graphic novels, toys, original art, collectibles, contests and more. The seventh event scheduled on the 2019 Wizard World calendar, Philadelphia show hours are Thursday, June 13, 4-9 p.m.; Friday, June 14, noon-7 p.m.; Saturday, June 15, 10 a.m.-7 p.m.; Sunday, June 16, 10 a.m.-4 p.m. Kids 10 and under are admitted free with paid adult.
Wizard World Philadelphia is also the place for cosplay, with fans young and old showing off their best costumes throughout the event. Fans dressed as every imaginable character – and some never before dreamed – will roam the convention floor and participate in the famed Wizard World Costume Contest on Saturday evening.
For more on the 2019 Wizard World Philadelphia, visit http://wizd.me/PhiladelphiaPR.
About Wizard Entertainment, Inc. (OTCBB: WIZD)
Wizard Entertainment, Inc. (www.wizardworld.com) produces comic, gaming and pop culture conventions across North America that celebrate the best in pop culture: movies, television, gaming, live entertainment, tech, comics, sci-fi, graphic novels, toys, original art, collectibles, contests and more. A first-class lineup of topical programming and entertainment takes place at each event, with celebrity Q&A's, comics-themed sessions, costume contests, movie screenings, evening parties and more. Wizard Entertainment has also teamed with Sony Pictures Entertainment to find the next generation of movies as well as to engage in a number of strategic initiatives. Additional initiatives may include an augmented touring schedule of Wizard World shows, fixed-site installations, curated e-commerce, and the production and distribution of content both in the U.S. and internationally. Fans can interact with Wizard Entertainment at www.wizardworld.com and on Facebook, Twitter, Pinterest, Instagram and other social media services.
The 2019 Wizard World convention schedule is available at: http://www.wizardworld.com/comiccon.
# # #
Media Contacts:
Jerry Milani, Wizard World, 646-883-5022 (o/txt), pr@wizardworld.com
Jim DeLorenzo, Jim DeLorenzo Public Relations, 215-266-5943, jim@jhdenterprises.com
Source: Wizard World
Share: