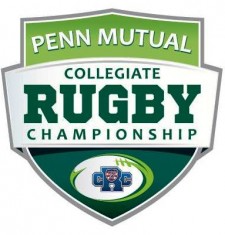 Nation's Top College Rugby 7s Squads Compete May 31st to June 2nd at Talen Energy Stadium in Philadelphia
Philadelphia, Pennsylvania, May 14, 2019 (Newswire.com) - ​​​The Penn Mutual Life Insurance Company has announced the three finalists for the 2019 Life of Significance Award, which will be presented during the upcoming Penn Mutual Collegiate Rugby Championship, set for Friday, May 31st through Sunday, June 2nd at Talen Energy Stadium in suburban Philadelphia.
After receiving 19 nominations for the 2019 Penn Mutual Life of Significance Award, Penn Mutual has narrowed the field to three finalists. These individuals have consistently upheld the values of the rugby community and Penn Mutual. The finalists are:
Matthew Crowe, Iona College; Hometown: Malverne, NY: Matt is the leader of the Iona Chapter of Midnight Run, an organization that coordinates 30 or more student volunteers on a monthly basis to donate food, clothes and other essential items to the homeless of New York City. In addition, he has traveled internationally to help the poor and marginalized in Dublin and Belfast, Ireland and serves as a campus Minister, organizing a bi-weekly Bible Study that brings people of different faiths and backgrounds together to discuss different viewpoints. He has also spent time volunteering with several organizations in New York City. Matt has worked with Abraham House, a group that offers first time offenders an alternative to incarceration. With Project Bro, Matt helped underserved youth through mentoring, advocating, and helping them graduate high school. Finally, he has carried out the mission of Wellspring, a group that helps "families experiencing crisis take the next step forward, tap into their own resilience and strength, and build community."

Jeston Glish, University of Wisconsin-Stevens Point; Hometown: Fond du Lac, WI: Jeston has spent the past three summers working with populations such as the visually impaired, the deaf or hard of hearing, intellectually disabled individuals, children with autism, and those with type 1 diabetes at the Wisconsin Lions Camp. Jeston has assisted with raising funds, and even organizing a fundraiser, for the Lions Camp which has led him to be a keystone in the community and within the leadership of the organization. He has also spent two years coaching Special Olympic athletes in track and field, basketball, and bowling and has served as a coach for Stevens Point Senior High freshman basketball team. In addition to coaching, Jeston is currently working for the YMCA in both before- and after-school childcare as well as undertaking an internship through the world-famous Mayo Clinic. Jeston will be working at the Lions Camp for his fourth summer in a row following the completion of his internship and undergraduate degree.

Kraig Puccia, Fordham University; Hometown: Whitestone, NY: Kraig is a member of Fordham's GO! (Global Outreach) Program and has gone to Bethel, Alaska to learn about issues of drug and alcohol abuse in the local community. In preparation for the visit, he helped raise thousands of dollars in donations to aid programs in the Bethel community to combat drug and alcohol abuse. While in Alaska, Kraig primarily assisted the Tundra Women's Coalition, which works to protect women in the community from their partners because of alcohol or drug-induced episodes that threaten their safety. He spent last year as a volunteer with the Domestic Violence Bureau at the Queens District Attorney's Office. This summer, Kraig will continue his altruism working at the Veterans Advocacy Project through the Urban Justice Center doing pro-bono work for neglected veterans throughout New York City. Kraig is also a volunteer for the Bronx Italian-American History Initiative, which works to preserve the cultural past of various parts of the Bronx by collecting, recording, and archiving the stories of past residents.
The Life of Significance Award is presented to one student-athlete participating in the Penn Mutual Collegiate Rugby Championship, either male or female, who upholds the values of the rugby community and Penn Mutual. The finalists demonstrate characteristics such as integrity, respect and loyalty-on and off the pitch-- through mentorship, giving back to their community and working with various charitable organizations.
This prestigious award was inspired by the book, "Living a Life of Significance," by Joseph Jordan, which details the positive impact the life insurance industry has on society.
The winner of this award receives a $5,000 donation to the charity of his or her choice and $1,000 worth of Rhino Rugby equipment is donated to their college rugby team.
The 2019 Life of Significance Award will be presented at a private event on May 31. The winner will also be recognized in a live on-field presentation during ESPN's broadcast of the Penn Mutual Collegiate Rugby Championship.
The outstanding field of nominees this year also included:
Owen Blaschak, Susquehanna University; Hometown: Dillsburg, PA;

Dong Dinh, University of Denver; Hometown: Seattle, WA;

Atalyia Eisenhauer, Bloomsburg University; Hometown: Scranton, PA;

Gio Ferguson-Lewis, United States Military Academy; Hometown: Rockaway Beach, NY;

Damon Jones, Thomas More University; Hometown: Philadelphia, PA;

​Jocelyn Jones, Life University; Hometown: Ogden, UT;

Matt Lydon, Saint Joseph's University; Hometown: Staten Island, NY;

Eamonn Matthews, St. Bonaventure University; Hometown: Jersey City, NJ;

Yanick Mendes, UCLA; Hometown: Indian Trail, NC;

Scout Muzikowski, University of Notre Dame; Hometown: Chicago, IL;

Jake Parmater, Indiana University; Hometown: Mishawaka, IN;

John "Jack" Ramirez, Loyal University Maryland; Hometown: Philadelphia, PA;

Jack Russell, University of Wisconsin; Hometown: St. Charles, IL;

Jeremy Seow, Claremont McKenna College; Home Country: Singapore;

Justin Stallworth, New Mexico Highlands University; Hometown: Tucson, AZ; and

Thomas Ward, Christendom College; Hometown: Norwalk, CT.
About United World Sports:
United World Sports (UWS) is the largest commercial rugby entity in the United States, and the owner and operator of a growing portfolio of dynamic sports, media and apparel brands including the USA Sevens Rugby international tournament, the largest professional rugby event in North America; the Las Vegas Invitational, the largest amateur rugby event in the western hemisphere; the International Silicon Valley 7s; and the Penn Mutual Collegiate Rugby Championship, the premier college 7s rugby championship. Through its apparel division, UWS owns the exclusive North and South American license for Rhino Rugby, one of the world's leading rugby apparel and equipment brands. UWS also owns and operates RugbyToday.com, the largest and most widely read media destination dedicated to American rugby.
About the Penn Mutual Life Insurance Company:
Since 1847, Penn Mutual has been committed to helping people live life with confidence. At the heart of this purpose is the belief that life insurance is central to a sound financial plan. Through our network of trusted advisers, we are dedicated to helping individuals, families and businesses achieve their dreams. Penn Mutual supports its advisers with retirement and investment services through Hornor, Townsend & Kent, Inc. Registered Investment Advisor and wholly owned subsidiary. Member FINRA/SIPC. We are proud to work together in a values-driven and relationship-based culture. Visit Penn Mutual at www.pennmutual.com.
Media Contacts:
Joe Favorito, (201) 746-0005, fatherknickerbocker1@yahoo.com
Jim DeLorenzo, (215 266-5943, jim@jhdenterprises.com
Source: Penn Mutual Collegiate Rugby Championship
Share: